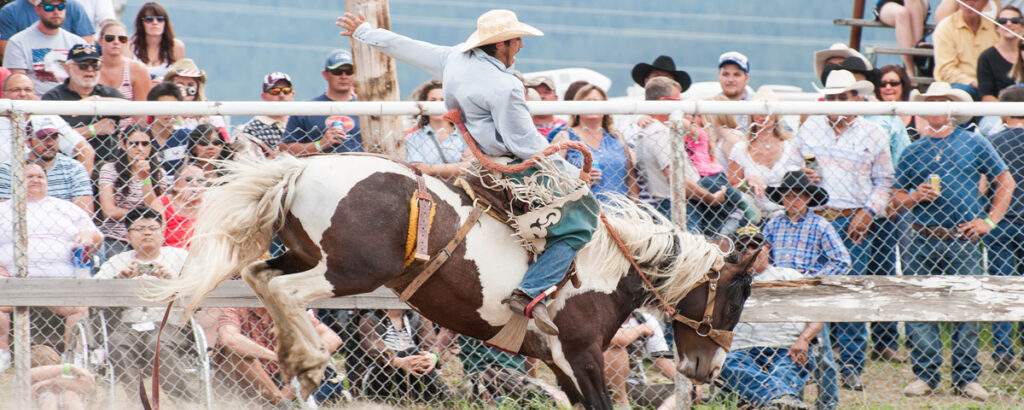 Arlee, Montana is steeped in rodeo tradition, with a long list of accomplished riders who have called it home. From top R.C.A. champions like Billy Schall and Wes Mapston to Indian Champion Dib Espinoza and more recent champions like Billy Hendrickson, Levi Hendrickson, and Ryan Mapston, Arlee has produced some of the finest rodeo athletes in the country.
One of the most thrilling events in rodeo is saddle bronc riding, and Arlee is no stranger to this exciting sport. In saddle bronc riding, the rider must stay on the bucking horse for eight seconds without touching the horse with his free hand. But that's just the beginning! The rider must also "mark the horse out" on the first jump out of the chute, keeping the heels of his boots in contact with the horse above the point of the shoulders before the horse's front legs hit the ground. It's a thrilling spectacle for spectators and a true test of skill and courage for the rider.
At the end of the ride, both rider and horse are scored on a scale of 0-50. Scores in the 80s are considered very good, while scores in the 90s are exceptional. A horse that bucks in a spectacular and effective manner will score more points than one that bucks in a straight line with no significant changes of direction.
If you're a fan of rodeo, you won't want to miss the chance to witness saddle bronc riding and other exciting events at the Arlee Rodeo. Come see why Arlee is so proud of its rodeo heritage and experience the excitement and tradition for yourself!